"IPAS 2 System Review – Is iPAS2 Worth It?" written by Mike Marko.
If you found this page it probably means you heard of the IPAS2 system and want to know is IPAS 2 worth it?  Sure there is a lot of excitement about it, and everyone is talking about it, but is IPAS legit?  Will it deliver like they say?
Before we get into that, let's talk heart-to-heart about…
Why People Fail Online
Having an online business is the dream.  Who wouldn't want the 4-Hour Work Week lifestyle?  I bet if you took a survey, 99 out of 100 people would say they want it (I can't say much about the 100th person… maybe they were distracted by texting and didn't hear the question properly).  🙂
But why isn't everyone successful online?
Well, there are several contributing reasons for that:
Information overload
Not enough support
Not enough time
Not enough resources or tools
Not enough marketing knowledge
Don't know how to generate quality, targeted leads
Little technical skills
Constantly buying product after product without first mastering what they have
High priced front end product
Not enough tracking and measuring of results
And that list is far from complete.
Sucks, huh?
Is IPAS2 Worth It: What Makes IPAS 2 Different?
That is a good question.  If there are so many people failing for so many different reasons, is IPAS2 worth it?  Will it really make a difference?
Before we answer that question, let's talk about what is the IPAS2 system.
What Is the IPAS2 System
Chris Jones and Chris Campbell, after earning nearly $4 million in online income for themselves, spent the next three years looking for innovative ways to solve those challenges I outlined earlier.  After some trials, they finally created IPAS2.
IPAS2 is a franchise-like online business.  It was designed to solve the problems that was plaguing the industry, and to get people up and running as quickly as possible.
How Does IPAS2 Work
There are several cool tools that built into the IPAS 2 system.  These include:
Sales Funnels.  A sales funnel is a series of videos that help up both educate and presells your customer to buy more products that will help them build their business.
Leads and Sales Tracking.  This has got to be my favorite part of IPAS2 system.  Before IPAS 2 it was difficult to precisely know where you sales were coming from.  Sure you could track where you leads came from… but you couldn't easily determine what was working to convert leads into customers.
Online Marketing Training and IPAS 2 TV.  There so much amazing training packed into this system… even at the basic level.  IPAS 2 really over delivers for the price when you consider all the training in combination with the system iteself.
So Is IPAS 2 Worth It?
I know… I haven't answered the question yet about is IPAS2 worth it.
Let's cover the list of reasons why people fail online and use them to help explain why IPAS2 helps solve that problem.
Information is fed to new people at a pace that is reasonable.  And there are very actionable steps they take to get started
You get a dedicated coach to help you get started heading in the right direction building your business
You don't have to create everything scratch.  IPAS2 is a franchise-like business where almost everything you need is ready to use right "out of the box"
There is tons of training, plus IPAS 2 is the superior tool you need to help automate part of your business.
You don't need a lot of marketing experience to get started because IPAS 2 was designed by marketers for marketers to help simplify the process.  All the heavy lifting was already done.
There is lots of training and guidance on how to use tools to get leads to help grown your business
Technical skills are not needed.  All the technical work is was done prior to you coming on board.  Now it is practically plug & play
Since IPAS2 and the profit maximizers are superior products, there is no need to find the next best thing.
IPAS2 has several lower ticket priced items to minimize the barrier to entry so you can build a bigger team.
The tracking is one of my favorite features of the new IPAS2.  You can see both where you leads and where your s
So what are you waiting for?  Get started  now…
Why Join Bren & Mike with IPAS2
You want to join a team that will help you get started right away, while at the same time have a proven record of achieving results.  Many of the other high earners will not take the time to talk to you, and the people who will normally do want to help aren't getting outstanding results, we (Bren and I) are different.  Bren and I are in the top 40 in all time ranking within IPAS2.  And we will help mentor people who are ready to take action with this business.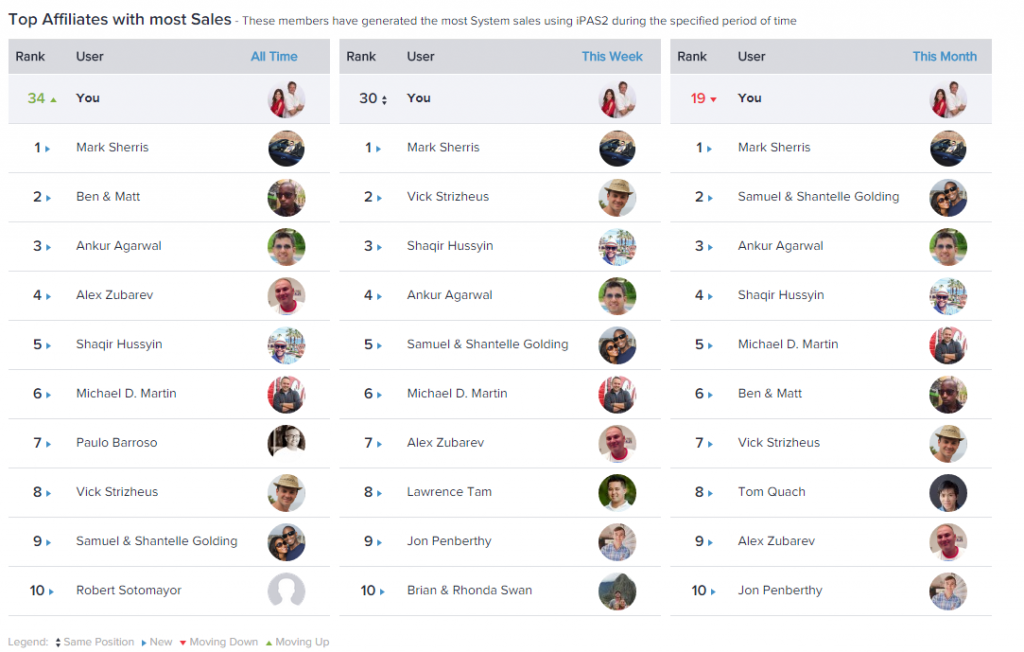 So What's Next?
The next step for you is to learn a bit more about IPAS2 and what is't all about. I recommend checking out this IPAS2 review link to learn more: https://www.mikemarko.com/what-is-ipas-2/
If you are ready to take the next step, click the Next Step button below and learn about joining Bren & Mike and becoming part of our IPAS 2 team.
P.S. – If you like this post, feel free comment down below and/or share on Facebook.
Suggested Articles:
1. What Are IPAS2 Profit Maximizers | IPAS 2 Review
2. IPAS2 Bonus – Join the IPAS 2 System with Mike Marko
3. Can IPAS2 Make Me Money | IPAS 2 System Review
4. The IPAS 2 System – Is IPAS2 Legit?
5. Can IPAS2 Make Me Money | Review of the IPAS 2 System
6. Official IPAS2 Marketing System Review | IPAS 2 Bonus! READ THIS FIRST!!!
7. IPAS 2 FAQ
8. What Is iPAS2 Review | DON'T JOIN IPAS 2 UNTIL YOU READ THIS! With BONUS!!
9. What is Kalatu?
Author: Mike Marko
Click here to contact Mike
www.IMConsultantServices.com
If you are interested in learning how to make money online, click the following links to learn more about IPAS 2 and check out this Empower Network and Jeunesse review.
If you want help marketing online, then check out our services at IM Consultant Services.
* Note that results are not guaranteed.  Check out the Empower Network earnings disclosure here.
Article:

IPAS 2 System Review – Is iPAS2 Worth It

?